MARY'S
P LAY HOUSE
---
Hi Everyone!
Hi! My name is Mary Elizabeth. I hope you like my web page. My Dad helped me make it. I am eight years old and attend Crainville School. I am in the Second Grade. My teacher is Mrs. Collins.
---
About My Family
My mother is Sally and my dad is Bob. I have a little brother named Tommy.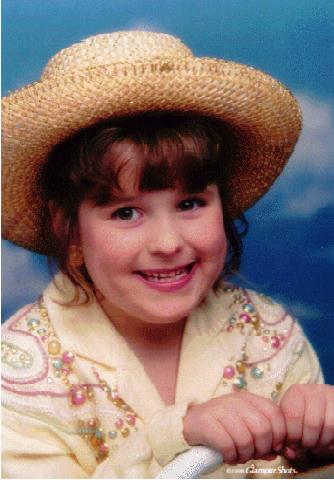 GUESS WHO?
---
My Dad works at John A. Logan College. To find out more about where my Dad works, click here.
---
Church
I go to the First Baptist Church in Christopher with Mom. When Mom cannot go to church, I ride the church bus with other children. We had Bible School this summer and it was a lot of fun! I love going to my church. My Uncle Bill is a Methodist minister.
---
Bad News...

I have asthma. Asthma is a sickness that makes it hard to breathe. I have to carry around a thing that makes a spray to help me breathe better called an inhaler. The doctors say that I might grow out of this when I get older. I hope they are right. Asthma is no fun!
---
Stuff
---
This summer we are going to spend the day in St. Louis. We're going
to visit the zoo in the afternoon, then go a Cardinals game in the evening. My favorite animal at the zoo is the lion. I think they are cool. But somehow we missed the elephants. I want to make sure I see the elephants this summer. I did NOT like the snakes! The St. Louis Zoo has a cool minature railroad. You can ride anywhere at the zoo on that little train.
I am also looking forward to watching the Cardinal game. That will be a lot of fun. But my Mom likes the Cubs. That could be trouble! Maybe we can watch the Cardinals play the Cubs.
---
SOFTBALL RULES!
---
I love to play softball in the summer.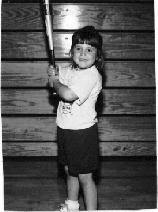 I have played three years for the Christopher Pixies. This summer, I hope to play softball here in Crainville with my new friends. My team is sponsored by Lunker Lure which my Dad says is the best fishing lure in the world. My coaches are Peggy Curry and Jim Williams.

My Mom was a softball pitcher for Christopher High School. After high school, she pitched at Rend Lake College. To find out more about Rend Lake College, click here. Although Mom was a pitcher, I like the infield. But maybe I'll try to pitch too. Right now, our coaches pitch to us. My coaches so far have been Sara Matyi, Steve Beaver, and Scott and Cheryl Shapkoff. Guess who that is holding the bat in that picture on the right? That's me! Every summer the CAYA takes pictures of all the boys and girls who play for the summer teams.
---
---
My Favorite TeeVee Shows
---
One of my favorite shows is...
Click on the picture
---
If you like scary stuff, click on the "Goosebumps" banner.
---
Christmas Rules!

My favorite holiday is Christmas. I get to be with all of my family: Mom, Dad, my brother Tommie, my uncles and aunts, cousins and everyone. And there is usually a gift or two....
---
Thanks...

for visiting my web site. I hope you liked it. Dad and I will be adding more stuff later. Come back anytime!
---
Leave me a note by signing my guestbook. I'd like to hear from all kids.

. . . . . . . . . . . . . . . . . . . . .